After last month was like hell pet-wise, I finally have some good news again on that front. My mom got sick of staring at the empty bird cage last week and from the short time I was at my parents I can honestly say that I've never seen anything has depressing as the empty bird cage in my parents' living room. So on Wednesday we drove to several shops that sold budgies. We actually went to 4 different ones but ended up buying two new budgies at the store we went to at first. These two just caught my eye right away. They were cuddling, picking at each other's feathers and always following each other in this huge cage of birds.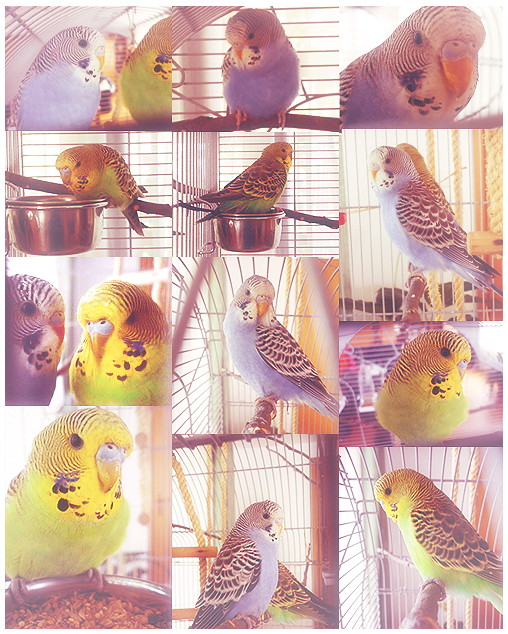 Right now we assume that the blue one is female and the green one could be male, but they're so young that it's hard to tell right now. Usually the color of their noses change when they get older and you can determine the gender by its color. Right now the blue one goes a little bit more in the female color spectrum as the green one, but we'll see. They're both just 4-5 months old, which means that the pattern of their feathers is still going through some changes. In one pic of the blue one (lowest row, middle)
you can see very well that they also don't keep their feathers as close when sitting in a relaxed position as adult birds do. The blue one looks like it ate too much in that photo, but this bird is actually quite thin.
So now we have them for less than a week, but they already ate from our hands, which is a major step in taming birds. But so far they weren't curious or too scared to leave their cage to fly around in the room. But at least our house is filled with the chirping of young birds again. The green one is also a real acrobat, just like Maxi used to be. Sometimes he's just hanging from a twig with just one claw and looking around where he should fly/let himself drop next ;-)
And since my mom hasn't come up with any serious alternatives, we'll most likely call them
Nikki
(blue one) and
Jamie
(green one) ♥